Vraag de nieuwe alumnipas aan ... en geniet van tal van voordelen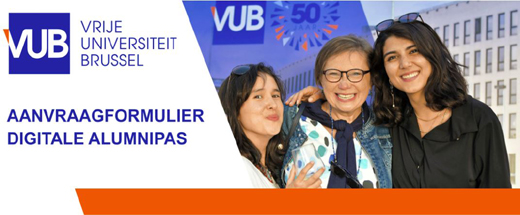 Deze pas is er voor elke alumnus van de Vrije Universiteit Brussel en kan gratis aangevraagd worden via een online aanvraagformulier.
Meer info.
Nieuws Studenten BMW
Mosa Conference 2016 - International Students Research Conference on Health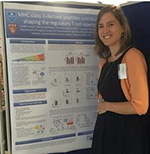 Tijdens de 20e editie van Mosa Conference te Maastricht won Steffie Junius, tweede masterstudente Biomedische Wetenschappen aan de VUB, de prijs voor Beste Posterpresentatie (extern) met haar poster getiteld: "MHC class II-derived peptides contribute to shaping the regulatory T cell repertoire." De jury was er unaniem over eens dat deze laatstejaarsstudente Biomedische wetenschappen de resultaten van haar masterthesis op een postdoc-niveau presenteerde. Haar masterproef deed ze in het Department of Surgery aan de gerenomeerde Harvard Medical School (Boston, USA) onder het promotorschap van Laurence Turka en Christian Leguern.
Alumni
Kevin Van Der Jeught obtains the academic degree of 'DOCTOR IN MEDICAL SCIENCES' at the Vrije Universiteit Brussel
In 2007, he started studying Biomedical Sciences at the Vrije Universiteit Brussel, Belgium. His master thesis, entitled « characterization of cancer stem cells in a syngeneic mouse model » was carried out in the Laboratory of Molecular and Cellular Therapy (LMCT) under supervision of Prof. Dr. Joeri Aerts. He obtained his master degree in 2012 with great distinction. He started a PhD in Medical Sciences on the topic « use of mRNA-based adjuvants to stimulate cancer-specific immune responses » at the LMCT under the guidance of Prof. Dr. Karine Breckpot and Prof. Dr. Kris Thielemans. Part of his work was carried out at the Centre de Biophysique Moléculaire of the Centre National de la Recherche Scientifique in Orléans, France under the guidance of Prof. Patrick Midoux. His PhD has been supported by grants from the IWT, the fund Germaine Eisendrath Dubois and the Doctoral Schools of Life Sciences and Medicine. The results of his PhD project have been published in seven peer-reviewed papers (four as first author), were presented at several occasions both at national and international conferences and was awarded several times, among others by the Belgian Association of Cancer Research. More info.
Thursday 20 October 2016 Auditorium Vanden Driessche, 17:00 Faculty of Medicine and Pharmacy, Laarbeeklaan 103, 1090 Brussel.
Luc Baeyens prijswinnende wetenschapper van een Starting Grant 'European Research Council' - 2016

De Vrije Universiteit Brussel kreeg drie van de zes starting grants die de European Research Council aan Vlaamse universiteiten heeft toegekend. Het gaat elke keer om een bedrag van anderhalf miljoen euro. De prijswinnende wetenschappers zijn Luc Baeyens, Frederik Buylaert en Wim De Malsche. Zij gaan met het prijzengeld onderzoek doen naar respectievelijk diabetes, geschiedenis en chemie. Meer info.
Yannick De Vlaeminck winnaar van de Thesisprijs 2015 - Stichting tegen Kanker

Sinds 2014 reikt de Stichting tegen Kanker Thesisprijzen uit. Er zijn 2 prijzen in 2 categorieën te winnen, 'Humane Wetenschappen' en 'Exacte en (bio)medische wetenschappen'.
De eerste prijs ter waarde van 1000 euro in de categorie 'Exacte en (bio)medische wetenschappen', werd door Yannick De Vlaeminck weggekaapt met zijn masterthesis getiteld 'Dissecting the biology of tumor-associated macrophages using lentiviral vectors and nanobodies' (promotor: prof. K. Breckpot - VUB). Meer info
December 2015.
Winnaar jaarprijs wetenschapscommunicatie 2015 - Koninklijke Vlaamse Academie van België voor Wetenschappen en Kunsten

Kevin Ariën wordt onderscheiden voor zijn wetenschappelijk advies voor de tv-serie Cordon en de talrijke duidingacties rond de serie en de ebola-epidemie in West-Afrika. Hiermee brengt hij virologie op een toegankelijke manier bij het grote publiek. Meer info.
Els Van Valckenborgh wint Junior Award van de International Myeloma Foundation
Twee awards voor jonge vorsers van de faculteit Geneeskunde en Farmacie aan de Vrije Universiteit Brussel:
Op 8 december laatstleden, tijdens de laatste American Society of Hematology meeting in Atlanta, USA hebben twee jonge vorsers van de faculteit Geneeskunde een Junior Award (elk 50.000 US Dollar) ontvangen van de International Myeloma Foundation. Concreet gaat het over Brenda De Keersmaecker (post-doc bij LMMO, promotor prof. Kris Thielemans, rechts op de foto) en Els Van Valckenborgh (post-doc en 10% ZAP bij HEIM, promotor prof. Karin Vanderkerken, links op de foto). Meer info.
VUB-onderzoekster Inge Mannaerts wint BASL research grant

Op vrijdag 7 december 2012 kreeg alumna Inge Mannaerts (Labo Liver Cell Biology, LIVR) de BASL research grant uitgereikt voor haar werk getiteld: 'Modulation of liver fibrosis by liposome-mediated selective targeting of hepatic stellate cells'. Deze prijs wordt jaarlijks uitgereikt door de "Belgian Association for the Study of the Liver". Dat fonds werd opgericht met als doelstelling jonge onderzoekers te ondersteunen op het vlak van klinisch en/of basis leveronderzoek.
Ilse Vaneycken -'Tiny Antibody Fragments Raised in Camels Find Drug Targets in Human Breast Cancer Cells'

A new discovery published online in The FASEB Journal promises to help physicians identify patients most likely to benefit from breast cancer drug therapies. If the compound, called "Nanobody," proves effective in clinical trials, it would represent a significant advance for breast cancer drug therapy because some drugs are effective only in some people.
Science Daily (April 13, 2011) — More info.